What's "new" in the new normal is the heightened demand for a safe home environment. The pandemic emphasized that living in cramped spaces without a change of scenery can only exacerbate a worrisome situation. But on a more positive note, the transition to safer normal is now happening.
One Lancaster Park in Cavite is among the newest condo developments providing a home to safely pursue personal, career, and family goals. This project elevates the discourse on what it means to feel secure and its impact on overall well-being.
Let's dive deeper into why One Lancaster Park is a top choice for a new-normal home.
1. Exclusive Condo Access
Exclusivity and safety go hand-in-hand at One Lancaster Park. The 10-hectare master-planned project has a covered basement with a single entry point, limiting access to outsiders. Public spaces like lobbies and corridors are also equipped with CCTV cameras, while a perimeter fence surrounds the entire community to prevent unauthorized access.
2. On-Site Facilities for Everyone's Welfare
The presence of an on-site police outpost also brings peace of mind at One Lancaster Park. It plays a role in boosting the condo's security strategies and deterring crimes through police visibility.
Safety in the context of healthcare is also recognized within the development. It has an on-site clinic with healthcare professionals ready to help with medical emergencies.
3. Safety-Focused Unit Design
Developer Famtech Properties Inc. also designed One Lancaster Park to have units where you can feel out of harm's way. Each unit has a fire detection sprinkler system, and electrical outlets are placed away from toddlers' reach.
Meanwhile, spacious unit layouts can provide an area where a family member can self-isolate as a safety precaution. Units with balconies also have a healthful benefit, as they can help maintain good ventilation and a clean home environment.
4. Tech-Driven Building Features
It's no secret that technology can make life at home convenient, comfortable, and safe. This is why One Lancaster Park harnesses the power of the RFID system to keep its units and elevators secure.
RFID key cards are more difficult to copy than traditional keys, and you can deactivate them to prevent unauthorized access. They're also considered a form of non-contact technology, making them handy for reducing exposure to high-touch surfaces.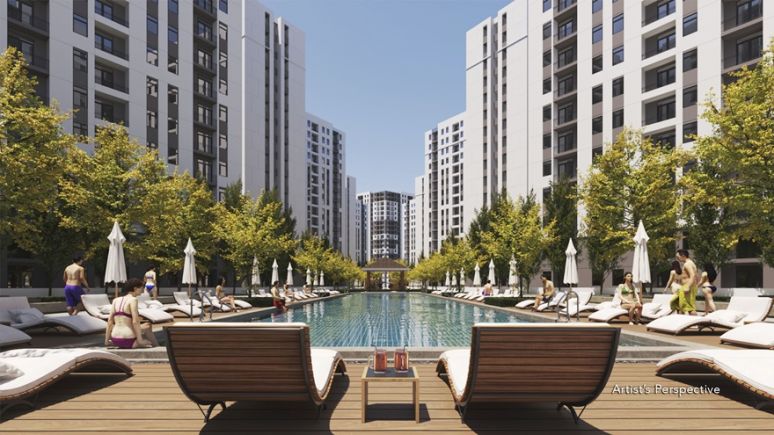 5. 70% of Open Space for Leisure 
The expanse of open space and well-curated amenities at One Lancaster Park enables residents to reclaim their time outdoors. More than half of the 10-hectare property will be dedicated to open leisure, so there's enough space for everyone to have fun and practice social distancing.
The condominium features a 7-hectare park comprised of a Family Bonding Zone, Active Zone, Quiet Zone, Kids Zone, Pocket Garden, and Play Area. These places of relaxation are interconnected via scenic elevated walkways.
6. Conveniently Located Within a Township
Get a taste of township living as One Lancaster Park is located within Lancaster New City. Condo dwellers will have access to the township's facilities, including a business park, lifestyle mall, worship place, and private school.
The township's own transport system (LNC Link Bus System) will also have a stop at One Lancaster Park, making the condo easily accessible from key infrastructures within and outside Cavite.
7. Increasing Property Value 
Of course, it's worth noting that the safest investment to have is one that retains or even increases its value. The latter can be true for the units at One Lancaster Park because of their prime location in an upgraded township. But more than this, the condo's location near Metro Manila is a strong indication of property appreciation.
As more people see the value of suburban living, as well as the livability and accessibility of One Lancaster Park, it's only a matter of time for its units to be placed at a higher price. Currently, the starting monthly rate for a unit here is P18,000.
8. Lower Density, More Privacy
Besides dedicating most of its space to outdoor leisure, One Lancaster Park will have fifteen mid-rise towers. The first and second towers will only have 8 storeys each, offering 24 units on every floor.
This means lower density per floor and a more peaceful surrounding. Condo dwellers will benefit from privacy and solace, allowing them to comfortably rest and be energized for the next day.
Adjusting to the new normal requires putting more importance on achieving a secure at-home lifestyle. At One Lancaster Park, a sense of safety can be felt at different levels and is key to positive experiences.
This article originally appeared in Lamudi (https://www.lamudi.com.ph/journal/new-normal-cavite-condo-investment/)